Instantly Dissolve Adhesive in Contact
Remove stubborn adhesive easily using ATR Solution, a powerful adhesive remover. Our solutions are formulated to effectively dissolve and remove adhesives leaving the area clean and look-like new.
Quick and easy

Safe for surfaces.

Safe and Reliable

It saves time and money.
Velit quis in condimentum
Donec aenean 700SE
For a free bottle of ATR, send a video of your experience using ATR.
Free bottle only if we use your video.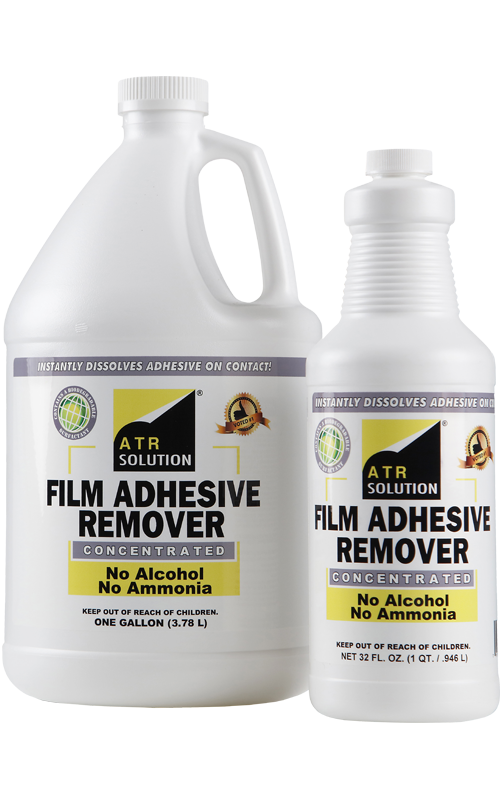 Gotta give a huge shout out to Vic Luna and the crew with ATR. We sometimes forget how nice it is to have a secret ingredient powerful enough to tackle all of the adhesive removals that we come across in our line of work. Strip and tint back windows, emblem removal, ad vinyl, bug guts on grills, etc. ATR has been our secret arsenal for years. We call it our heavy artillery at the shop. This stuff is magic and we don't show our results enough. lf you haven't tried ATR, this is your sign.

This product performed exactly as promised. The tint on my windows was 20 years old and this product removed the glue 100%. I literally sprayed it on dragged my scrapper along the windows and then wiped it down with another squirt and paper towel. It took 5 minutes.

Only product I found that was successful in removing the adhesive on the windows. Great to be able to clearly see out the windows again.

First of all this product is great. I have used many so-called window tint removal solutions and nothing comes close to ATR Solutions. This product makes my job much easier. I am truly glad I came across it. I already introduced it to some colleagues of mine, and they're still impressed on how great it works. Thanks ATR Solutions.

I have been doing window tinting professionally for over 15 years and in the past every body used to do their own mix of different chemicals and process until I bumped into ATR and it made a world of difference. It's a no drainer. Squirt it on and wipe it off. That's the only way to describe it, so easy. You just have to try it; you'll never go back to any other solvent. I recommend this to any window tinter out there.

I used this product to remove the adhesive from non-glare film that had been on my windows for over 15 years needless to say it was truly baded on. This product did exactly as advertised. I just sprayed it on left it for a few minutes. Then, with a light scraper, or ever a rag, the adhesive just came right off.

In et amet cras amet odio facilisis magna lorem cras leo ultricies ligula ac semper sed egestas non elit, magnis porttitor aliquam malesuada eu tristique amet mattis congue augue sit nulla consectetur.
Say Goodbye to Stubborn Adhesive!
Are you tired of struggling to remove adhesive from windows film, tapes, labels, vinyl or stickers? Don't let sticky hold you back! Try ATR Solution today!